TruConnect, formerly known as TruConnect Mobile, is a mobile virtual network operator based in the United States (MVNO). It sells mobile hotspots, smartphones, 3G/4G LTE mobile data plans, and prepaid talk and text plans on another carrier's network. TruConnect was the first prepaid broadband provider to offer pay-as-you-go portable Wi-Fi service plans in the United States. Since it is the only Lifeline provider headquartered in Los Angeles, CA, many people are curious about what network does TruConnect use. This article will provide you with all of the necessary information. 
On nationwide 4G LTE networks, TruConnect provides no-contract, prepaid, and Lifeline wireless services. Through branded locations and distribution partnerships, the company is rapidly growing its retail presence. Services and accessories are available through large national retailers, branded storefronts, online, and pop-up shops.
This article will look at what network TruConnect uses and whether it is a reliable network. We'll also look at this MVNO's network coverage and how to check for phone compatibility on the network. Finally, we'll look at the TruConnect network technology and how to improve cell phone reception if you're interested in joining the network.
What network does TruConnect use to offer its services?
As mentioned earlier, TruConnect leverages network services from a standard service provider because it is a mobile virtual network operator. Previously, they had to rely on both T-Mobile and Sprint's networks and towers to offer service to their customers. TruConnect now solely uses T-Mobile's network and towers since Sprint and T-Mobile merged in April 2020.
T-Mobile is a leading standard service provider and one of the top three cellular service providers in the United States. It currently spans 99 percent of the United States' landmass. However, are you residing in a rural location with a sparse population? The network may be slow or unreliable, necessitating the purchase of the best cell phone booster for rural areas. The booster will select a weak existing cell signal, amplify it, and rebroadcast it to your cellular devices as a strong signal.
TruConnect consumers should be able to utilize the now-common network whether they own a CDMA or GSM-enabled mobile handset because Sprint uses the CDMA network and T-Mobile uses GSM technology. Furthermore, the T-Mobile network provides LTE services, and the most up-to-date phones are built to work flawlessly with 4G (or possibly 5G) LTE networks. As a result, the article suggests that you upgrade your phone from one of their stores so that you can now boost cell signals at home for free to avoid dropped calls, slow data speeds, and undelivered texts.
How good is the TruConnect network?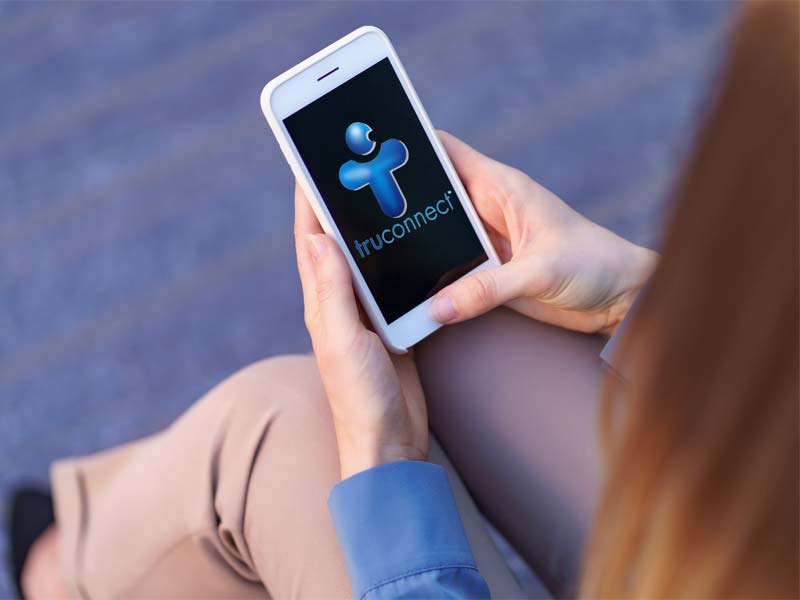 If you have read the above part, you already know that TruConnect does not own any network or signal towers and instead relies on T- Mobile. Since T-Mobile and Sprint merged, they've built a massive, fast, and highly dependable countrywide coverage.
T-Mobile's 4G LTE network connects 99 percent of all Americans, and their 5G network is rapidly expanding. According to available information (there is always some subjectivity), T-Mobile has one of the most up-to-date towers and networks and maintains them regularly.
TruConnect's network coverage is more than good – it's fantastic, thanks to the newly combined T-Mobile/Sprint network.
What areas does TruConnect's network cover?
Despite operating on one of the country's largest networks, TruConnect service is unavailable in all states or areas and varies by state. Unfortunately, it does not provide coverage in all areas.
TruConnect offers low-cost or free cell phone service to qualifying households in Arizona, Missouri, Nevada, Ohio, Oklahoma, Arkansas, California, Colorado, Georgia, Maryland, Michigan, Minnesota, Pennsylvania, Puerto Rico, South Carolina, Texas, Utah, Washington, West Virginia, and Wisconsin, Illinois, Indiana, Iowa, Kansas, Kentucky, and Louisiana.
The location, geography, building structures, weather, signal strength, traffic volumes, technical limitations, service interruptions, and other factors affect network coverage. For example, cell signals are weak in hiking areas on mountainous slopes, so it's good to bring a portable cell phone signal booster for hiking with you.
You can apply online to see whether their service is accessible in your area. You can also check TruConnect's official coverage map to see if coverage is available in certain areas by entering exact addresses.
How TruConnect network Coverage Can Compare
Since TruConnect uses the new T-Mobile/Sprint network, its network coverage is nearly identical. Even though network tower owners have a slight advantage, it can be easily compared. It is one of the most incredible Lifeline options compared to other carriers. Unless you live in a very rural location, your area will likely have TruConnect coverage.
T-Mobile's network towers are located across the country and cover most of the country's towns and cities. Their 5G coverage is twice as extensive as that of Verizon or AT&T, while their 4G coverage is slightly behind but still covers 99% of the US population. The coverage of TruConnect can also be compared to that of other carriers on the same network.
Comparison of 5G coverage:
T-Mobile has 36.7 percent 5G coverage (covers 80 percent of the population)
AT&T has 15.9% 5G coverage
Verizon has a 5G coverage rate of 10.9%
In terms of 4G coverage;
Verizon has a 70% 4G coverage
AT&T has a 4G coverage of 68 percent.
T-Mobile has 62% 4G coverage (covers 99 percent of the population)
How reliable is the TruConnect network?
It's vital to note that the above coverage comparison is between America's three leading carriers. The major US carriers were once known as 'the big four (Verizon, AT&T, T-Mobile, and Sprint), but today they are known as 'the big three,' as Sprint is no longer in the running (Verizon, AT&T, and T-Mobile).
As a result, all these companies provide the country's largest and most reliable networks. They all have thousands of towers across the country and use cutting-edge technology to distribute their services. TruConnect's utilization of one of the three major networks proves that its network is highly reliable.
T-Mobile has 62 percent 4G coverage, which reaches 99 percent of the population, and the most 5G coverage, which reaches 36.7 percent of the territory and 80 percent of the people. Although TruConnect uses T-Mobile's outstanding network, it claims to have 97% coverage, and the little percentage difference could be attributable to the network tower owners' advantage over their tenants.
As previously stated, the actual service availability may be affected by various factors such as weather, topography, building constructions, and so on. TruConnect's network coverage is quite reliable across the country, even in distant rural locations. If you have a weak mobile signal at home, however, the article proposes that you explore ways how to improve your cell signal at home.  
What other MVNOs use T-Mobile's network as TruConnect?
The new T-Mobile network towers are currently used by most of America's Mobile Virtual Network Operators, who previously used either the old T-Mobile or Sprint network towers. The MVNOs listed below use the new T-Mobile network.
Simple Mobile
Boost Mobile
US Mobile
Tracfone
Consumer Cellular
Best Cellular
Which Network Device Does TruConnect Use? GSM or CDMA?
TruConnect is currently undergoing some changes. Following T- Mobile's acquisition of Sprint, Sprint's towers have been gradually decommissioned, and Sprint's services have been transferred to T-Mobile. Sprint towers, on the other hand, are still in operation.
Because the Sprint network was based on CDMA, CDMA devices use the former Sprint network, whereas GSM devices use T-Mobile towers. Furthermore, 3G devices are being phased out, and only 4G and 5G gadgets will be available soon. These devices are compatible with both CDMA and GSM networks.
Does TruConnect use another network apart from T-Mobile?
TruConnect plans are all remarkably similar and are solely dedicated to assisting Lifeline-eligible families. Moreover, all TruConnect plans use T-Mobile and Sprint's signal towers.
As stated above, since T-Mobile merged with Sprint back in 2020, there is still some transitional time Sprint's older signal towers are operational. However, officially these are also T-Mobile's. TruConnect is not available on any other network.
The TruConnect website can be used to check phone compatibility. Your IMEI number will be necessary before you can begin. You may get your IMEI number by dialing *#06#, which will prompt you with your IMEI number. After that, you'll need to enter your IMEI number to determine if your device is compatible.
Bottom line
We've talked about what cellular network TruConnect uses in this article. This will assist consumers who want to bring their own devices, new customers who want to join the network, and existing customers who want to learn more about the network type and reliability.
Because they use T-new Mobile's enhanced network, their coverage is extensive and among the great in the country. TruConnect is undoubtedly one of America's most outstanding service providers, particularly for Lifeline customers.