Mobile Virtual Network Operators (MVNOs) like H2O Wireless, Metro, Boost Mobile, and Straight Talk are becoming increasingly popular among US consumers. They use the big carriers' towers and equipment, but their tariffs, customer service, and phone choices are all their own. This article will mainly look at H2O Wireless. Notably, the article will focus on what network does h2o wireless use to offer services to its consumers.
H2O Wireless is a prepaid GSM phone and mobile internet service based in the United States. It uses another carrier's network as a mobile virtual network operator (MVNO). Its reliable services, high-quality mobile devices (you may buy one from them or bring your own), international calling, and nationwide inexpensive plans attract many users.
Since H2O Wireless is a mobile virtual network operator (MVNO), it doesn't have its towers but has an arrangement with one of the largest carriers to use their towers and network instead. In this article, we will reveal what network does H2O use, how good is its coverage, if its network is reliable, how to improve cell phone reception on it, and much more. Let's get started.
What network does H2O Wireless use
As an independent provider, the MVNO began operations in 2005. In 2010, the KDDI Corporation, a Fortune Global 500 company with yearly revenues in the billions of millions, purchased Locus Telecommunications.
The sale of Locus Telecommunications and hence H2O Wireless to Telrite Holdings, INC was announced in January 2019. Telrite Holdings, INC also owns Life Wireless, Telrite Corporation, and Pure Talk USA. Locus Telecommunications was estimated to have around one million subscribers at its sale.
H2O Wireless, as of now, leverages AT&T's cell towers and nationwide network to offer cellular services to its customers. When AT&T decommissioned its 2G network in 2016, H2O Wireless followed suit.
Consumers using older and more basic mobile devices were required to upgrade their phones to utilize H2O's more advanced networks. Did you know that upgrading older phones will boost cell signals at home for free? You are now aware!
In 2020, the MVNO launched its 5G nationwide network, and in February 2022, the provider shut down its 3G network, leaving users with only 4G LTE and 5G networks.
How Good Is the H2O Wireless Network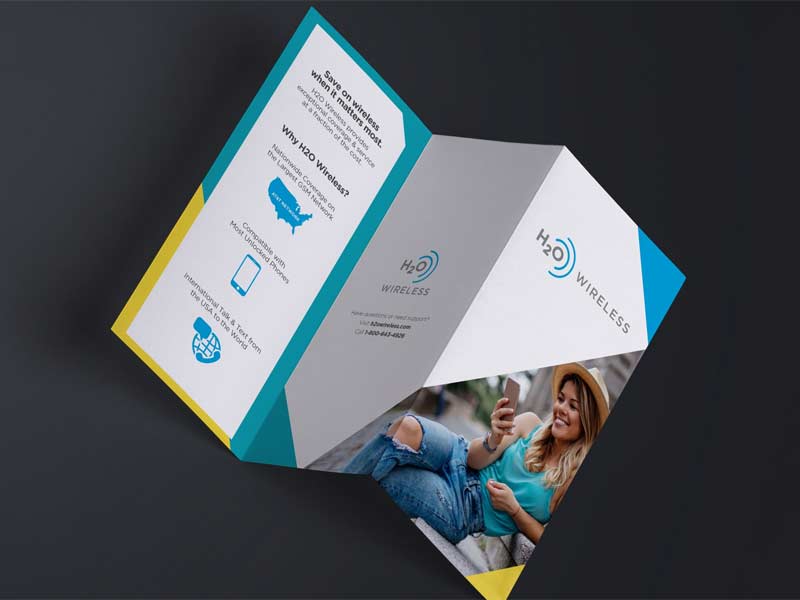 Since H2O Wireless leases and runs on AT&T's network, its network quality depends on AT&T's towers and network. AT&T and its MVNOs (including H2O Wireless) have one of the best networks in the country. In terms of cellular coverage, the network is second to Verizon, whereas the new T-Mobile (T-Mobile and Sprint) is third.
H2O Wireless uses AT&T's second-best nationwide network. The MVNO, on the other hand, has much lower prices. As a result, AT&T's MVNOs, especially H2O Wireless, are popular alternatives to the primary carrier (AT&T).
What areas does H2O Wireless network cover
H2O's network coverage depends on AT&T's coverage. AT&T, for example, has about 10,000 towers around the country and connects over 99 percent of the population. As a result, its coverage, as well as that of its MVNOs, is rather impressive.
Because AT&T's towers aren't evenly placed across the country, it's crucial to check whether H2O has adequate coverage in your location. In Delaware, Indiana, and New Jersey, AT&T offers the best coverage (99.99 percent). They also offer comprehensive coverage in the states listed below.
Arkansas
Connecticut
Florida
Georgia
Illinois
Kansas
Kentucky
Massachusetts
Ohio
Rhode Island
South Dakota
They have the worst coverage in Alaska (just 11%) and poor coverage in Maine (46 percent). Arizona, Nevada, and Wyoming may also have patchy coverage. H2O customers can still make calls, send messages, and use data since AT&T has roaming agreements in most places with patchy coverage.
Theoretically, H2O should have the same coverage as AT&T. However, as an MVNO, it may encounter slower speeds and poorer signals in times of congestion. As you can see from H2O Wireless's official website, the service is available in most parts of the country. Coverage is patchy in Arizona, Idaho,
Montana, Nevada, Utah, and Wyoming. However, customers in these states have reliable service in populated areas and may only have difficulty getting a robust signal in most remote areas. H2O customers in rural areas can purchase the best cell phone booster for rural areas to improve their coverage.
Visit H2O's official website and enter your address or ZIP code to see if they have coverage in your area. The system will display your location on a map and inform you of the coverage strength in that area.
Please remember that the coverage map on H2O's website is simply an estimate of wireless voice and data coverage. Coverage varies based on geography, buildings, signal strength, and other factors.
How reliable is the H2O Wireless network
H2O Wireless's network is undeniably very reliable. Verizon's MVNOs may offer slightly more excellent coverage than H2O Wireless since Verizon's network covers a larger area.
It's worth noting that the coverage difference between the three primary carriers (and consequently their MVNOs) is minimal. Therefore, they all have good networks. Verizon's 4G LTE network covers 70% of the country, AT&T's 4G LTE network covers 68% of the country, and T-Mobile's LTE network covers 62%.
They all connect over 99 percent of the United States' population and may only have weak or patchy reception in rural places and hiking grounds. You may be sure of better network coverage when using a portable cell phone signal booster for hiking.
What other carriers use the same network as H20 Wireless
All the MVNOs run on one or more major networks: Verizon, AT&T, and T-Mobile (Sprint). Since H2O Wireless is an AT&T's MVNO, it shares AT&T's network with all the other AT&T MVNOs. The following is a list of MVNOs that only use AT&T's network.
H2O Wireless
Free UP Mobile
Good2Go Mobile
Cricket Wireless
MVNOs that use AT&T and other carriers' networks are listed below.
Net10 (AT&T, Verizon, T-Mobile, and Sprint)
Straight Talk (AT&T, Verizon, T-Mobile, and Sprint)
Freedom Pop (AT&T and Sprint)
Red Pocket (AT&T, Verizon, T-Mobile, and Sprint)
TracFone (AT&T, Verizon, T-Mobile, and Sprint)
Consumer Cellular (AT&T and T-Mobile)
MVNOs that leverage various carriers' towers and networks can have the best coverage, as you may think. However, since each customer has access to only one network (depending on the device they have and where they reside), the actual coverage is similar to that of MVNOs that use only one network.
Which Network Technology and Devices Does H2O Wireless Use – GSM or CDMA
H2O Wireless uses GSM network technology. GSM is an acronym for global systems for mobile communications. Notably, it is a standard network technology used by various standard service providers worldwide.
The network technology is regarded as reliable, and it seeks to adapt to newer technologies like 5G, which offer high Internet speeds and a variety of other benefits.
H20 Wireless has to ask all its customers to use GSM phones since AT&T's GSM network only supports GSM-enabled devices. They wouldn't be allowed to use the MVNO's services if this were not the case. 
How to Get Better Cell Signal with H20 Wireless network
The following are some ways how to improve cell signals at home with H20 Wireless;
Get a new phone. It's not just a different phone but a brand new phone. Ensure it is the one that reflects the most recent model or, at the very least, one that is no older than 2-3 years. This tip dramatically aids reception.
Get a suitable cell signal booster. This tip goes without saying. It's pretty efficient. Did you know that an internet booster works similarly to a cell signal booster to improve Wi-Fi signals?
Move to a place with better cell reception.
Bottom line
You now know what network does H2O Wireless uses from this article. We've covered all you need to know to get started with the network. Interestingly, H20 Wireless relies on AT&T's reliable network to provide improved coverage, quicker data speeds, and HD voice calls.
You can purchase an appropriate cell signal booster to improve coverage in areas where the MVNO network is unreliable.