Cox Communications, also called Cox Cable, is American telecommunication, digital cable television provider, and home automation services company. It is the country's third-largest cable television service provider, serving more than 6 million customers, including more than 2 million digital cable subscribers, 3 million internet subscribers, and approximately 3.2 million digital telephone subscribers. That makes it the seventh-largest telephone carrier in the United States. But how can I boost my Cox WiFi signal?
I will show you how you can boost your Cox WiFi signals shortly. Cox's headquarters are at 6205 Peachtree Dunwoody Rd in Sandy Springs, Georgia, the US. The company is a privately-owned subsidiary of Cox Enterprises. It started its operations in February 1962, which is 60 years ago. Since then, the company has grown tremendously based on the current number of subscribers. In 2020, the company had a total of 20,000 employees.
Cox serves various states, which include Arizona, Arkansas, Washington D.C, Florida, Georgia, Idaho, Iowa, California, Connecticut, Kansas, Nebraska, Nevada, North Carolina, Ohio, Oklahoma, Louisiana, Massachusetts, Texas, Rhode Island, and Virginia. Its products include Cable television, Home Security, broadband internet, wireless, VoIP, Business services, and Gigablast fiber. It is, therefore, a broad company looking at the various services offered.
What leads to poor WiFi network connections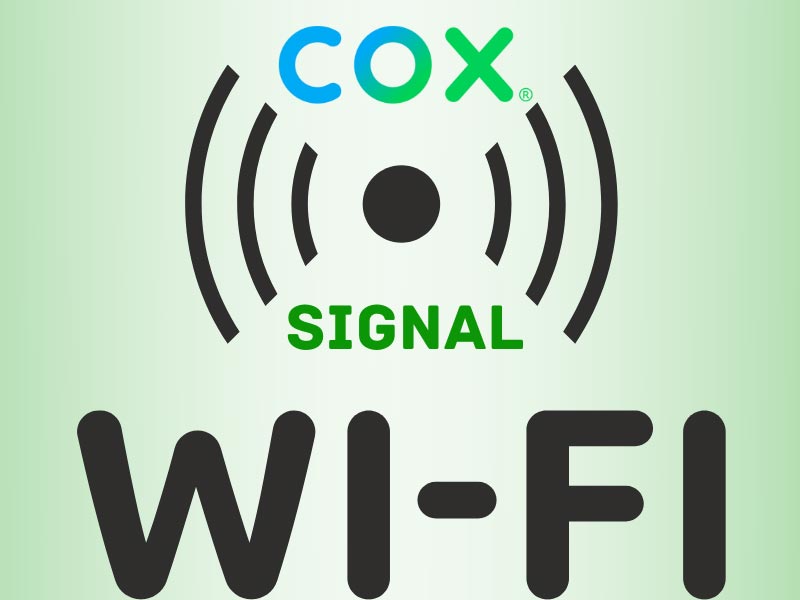 The following are the various factors that can lead to poor WiFi connections.
i) System failure
If your service provider's systems fail due to some issues, you can experience poor network connections. You can resume your connections once your service provider puts everything in order.
ii) Connecting many devices
WiFi allows you to connect several devices such as smartphones, computers, tablets, security cameras, printers, etc. if you connect many devices, you can experience slow connections due to competition.
iii) Inefficient router
If your Cox router becomes less efficient, it will not be able to operate as expected. You will, therefore, not receive the necessary connections. The device may malfunction due to manufacturing faults, electricity, or mechanical damage.
iv) Interference
If you are using your Cox WiFi router in an area with other waves, you may experience poor network connections. These include radio waves from your radio and television, microwave, or X-Ray machine.
v) Frequency selected
The 2.4GHz frequency allows you to receive strong WiFi signals. However, if you use 5GHz, you may experience poor internet connections. The 5 GHz frequency is slower than the 2.4GHz. Its advantage is that it can reach far compared to the 2.4GHZ frequency.
vi) Barriers
You will likely experience poor network connections if your house has thick walls. That is because the signals cannot go through thick walls. Thick metal and cement walls are some building materials that can interfere with signal transmission.
vii) Distance from your router
Usually, the network strength decreases with an increase in distance. As you move further, you can see the decreased signal strength. WiFi bars drop one by one until you cannot see any on your screen.
How can I boost my Cox WiFi signal
You might be experiencing poor signals with your Cox and wondering how you can boost them. There are various ways you can improve your network connections. Have a look.
1) Change broadcast frequency
Routers use 5 GHz and 2.4 GHz frequencies. If you are using 5 GHz, you should adjust it to 2.4GHz, and your connections might improve. The frequency you use can affect your connections in a big way. 2.4 GHz frequency gives you stronger connections compared to the 5 GHz.
2) Lower the number of devices connected to your router
Connecting many devices can lower network connection strength. You can try reducing the number of connected devices to improve your connections. When you connect numerous devices, they compete for the same network, thus reducing the efficiency. Competition reduces resources.
3) Restart your router
When you restart your Cox WiFi router, you will refresh its memory. When your WiFi router's memory is overwhelmed, it can function poorly. You will likely see some improvements After refreshing the device's memory.
4) Change the location of your router
If you have placed your router in the wrong spot, there is a likelihood that some areas of your house or compound will not get proper connections. You should place the device on a central point where the whole house receives uniform signals. You should also ensure that it is at a point where children cannot reach.
5) Tighten the router cables
The incoming cables are the ones that bring internet signals to your router. If the wires are loose, you might witness poor signal connections. You should check that the wires click into position in the correct port.
6) Renew your subscription
Cox and other WiFi companies usually slow down your connection or cut it off if you do not pay your subscription fees. You must pay your monthly fees on time to ensure that you remain connected.
7) Use a signal booster
You can use a WiFi booster if your router is malfunctioning. The device amplifies weak WiFi signals to strengthen them, especially if you are far from your router. It would be best if you first linked your cell phone signal booster with your router to function correctly. Usually, you link the devices using an app that you should download from the relevant sites. You may also link using a given website by inputting the login details of your WiFi.
8) Repair or replace your router
If all the other troubleshooting ideas do not work, you can have it repaired by Cox technicians if possible. If the router is damaged beyond repair, you can request them to replace it for you to continue enjoying your connections.
9) Subscribe to an advanced plan
You might be experiencing slow connection speeds because you subscribed to a low-speed plan. You can liaise with Cox and get a plan with higher connection speeds. Understanding why you need the WiFi is essential to getting the right plan.
Bottom line
Cox Communications, also called Cox Cable, is a telecommunication, digital cable television provider, and home automation services company that operates in the US. It is the country's third-largest cable television service provider, serving over 6 million customers. Its WiFi internet is among the best connections in the country. Sometimes you may experience low network connections due to some issues.